Hunt Specials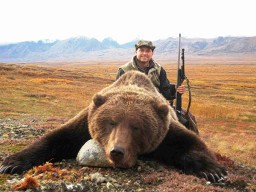 Hunt Alaska's Largest Moose and Bear!‏
November 18, 2014
Looking for a giant Alaskan Moose and Bear? Here is your chance to hunt for them in 2015 and 2016!
Our currently featured operator has been guiding trophy Alaskan Moose and Brown Bear hunts for 25 years Located within the Kilbuck Mountains, which are about 60 miles south of Aniak, the main camp is located on the Kipchuk River, which flows into the Aniak River. These two rivers and the Salmon River offer what we feel some of the finest moose, brown /grizzly bear hunting in the state. Fishing is also available for salmon, char and grayling. Most of our spike camps are located on ridge tops near the headwaters of the rivers named above. A lot of the country is rolling hills with some 3,000 and 4,000 thousand-foot mountains. This is spectacular country!
Alaska Yukon Moose are abundant and grow to great size in this region. Some of the largest bulls ever taken have come from this camp. The local rivers have large runs of salmon from July to October. Both Brown Bear and Black Bear are found in large numbers. Wolf and Wolverine are taken every year. Jack Atcheson & Sons, Inc. has sent sport hunters here since 1990 and his success on moose and bear as well as his service has been unparalleled!
2015 & 2016 Hunt Prices:
Spring Brown Bear & Wolf: $14,500
April 25th  – May 5th
May 5th  -15th
(This Is A Snow Machine Hunt)
August Hunts:
Brown Bear/Grizzly, Black Bear & Fishing: $14,500
One Hunter & One Guide (9 Day Hunt)
August 9 – 19th
August 19th – 29th
September Combo Hunts:
Moose, Brown Bear, Black Bear,  Wolf & Woverine: $27,500
One Hunter & One Guide (9 Day Hunt)
September 2 – 12 (2015 BOOKED / 2016 OPEN)
September 12 – 22
Brown Bear, Black Bear, Wolf & Wolverine: $14,500
One Hunter & One Guide (8 Day Hunt)
September 22 – October 1
Tags And License Costs:
Hunting License    $85
Moose                      $400
Brown \ Grizzly     $500
Black Bear              $250
Wolverine               $175
Prices and dates subject to change based on Alaska regulations.
Dates are arrival and departure dates. Hunts are open unless marked otherwise.
Trophy Deer and Elk Hunts Available Now!
September 25, 2014
The first offer is for 1-2 Mule deer hunters. This is a 9,800 acre free range private ranch located in Northern Utah. Great population of mule deer. Expect to see 20 to 40 bucks per day during this 5 day hunt. Date is arrive camp November 5th PM and hunt the 6th thru 10th 2014. This ranch produces a 170″ to 190″ type buck.
The ranch seems to pile up bucks during this time and new bucks are moving in and out everyday being the rut is just getting started. Accommodations are small cabins for sleeping with mattress beds, 2 men to a cabin. Full bathroom and a nice house for gathering and dining.  Terrain is very open and several roads make for easy access from 4×4  trucks and the occasional side by side ranger. Fully guided 1×1 and cook, food, trophy care. Ranch is located 2 hours North of Salt Lake City. If driving they will provide directions to camp. If flying they will pick up at local hotel so you would fly to SLC and rent a car. Cost of the hunt is $6,900 + $350 sales tax and $343.00 for license.  There are 3 hunters in camp this week. They have one spot booked so 2 openings remain.
Family Safari in Namibia
August 13, 2014
"Now that we have been home for a couple of weeks and had a little time to reflect on our trip I wanted to send a note to say thank you to you both.  Keith, we can't thank you enough for referring us to the safari company. To the owners, the rest of the credit for our great experience goes to you and your team.  It would be fair to say we had the time of our lives.  Everything about the trip was absolutely first class.  The lodging, food, people, hunting, etc all were about as good as you could have asked for.  To do what you do where you do it is absolutely astounding.  I can't comprehend the logistics of feeding, housing, and pampering people the way you do in the wilds of Namibia.  Add to that the first class hunting and you have an experience in a place that leaves you changed when you leave.  I have made a habit over the years of keeping a journal on my hunts to look back and reflect on after the hunt is long past.  I have read and watched and dreamed of hunting Africa for years and honestly I fully expected to love the experience when I left home.  The hunting media, press, and broadcasting does a really good job in the US of showing Africa.  I knew I was hooked, but as I shared with both of you this was the first time either Anne or Margaret had showed any interest in tagging along.  They both left absolutely in love with the experience and the country and the people.  I wrote in my journal the last night we were in Namibia, "I can't express how much I appreciate bringing them to a place I loved when I left home and they loved when we went home".  The credit for that experience and memory goes to you both.  Rudy was absolutely great with Margaret and all of us for that matter.  He is the consummate professional.  Simone was excellent also and as a team he and Rudy are perfect.  Both have a great sense of humor, a great knowledge of the animals and country, and a genuine desire to make the hunters happy.  No request was ignored and I can't imagine anyone working harder to insure we had a great hunt. Brigette was also a joy in camp.  The food, rooms etc. were all perfect and she works long hours each day to make sure it meets here high standards.  Add to that the attention Annette and Alex showed to Margaret, showing up in camp when she killed her Zebra, having dinner with us on her birthday etc. truly made for a great trip.
The commitment this team has to the people that work to make the operation run is to be commended also.  I made several comments complimenting the operation to Annette and Alex over the course of our trip and each time they insisted they could not do what they do without the staff they employ.  This is a testimate to the operation as a whole.  Understanding the efforts of all make the operation possible.  The school was another big deal for us.  I am on the local school board we are very involved in education locally and to see what can be done with very limited resources "in the wilds of Namibia" is touching.  It would be very easy to take the money and do something else with it, and I am sure many outfitters do, but to commit to the local families that work for and with you to educate their children in such a professional setting is commendable and we left impressed with the results and touched by the effort.
We had a great trip and again thank you both for making these memories for our family!"
-Dave, Anne and Margaret Murphy