Hunt Specials
Southeast Alaska Mountain Goat Boat Hunt
February 21, 2015
These hunts are rather hard to come by as there are very few operators actually offering these unique hunts and very few permits. We have 1 permit open with one of our best guides in Alaska. Goats are found at lower elevations making it easier to get a big trophy Billy Goat. There's no animal more impressive than a big old Billy in full winter hair. This one will not last long. Call Atcheson's now.
$11,000 – November 10 to 16, 2015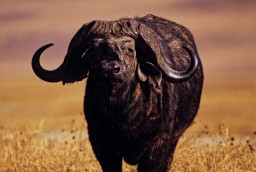 Tanzania Masailand Trophy Cape Buffalo Hunt
February 4, 2015
February / March 2015
Two Buffalo Bulls per hunter.
Up to Six common East African Plains game.
Now this is one very exciting opportunity but you better act fast as this offer is available from now till the 31st of March 2015. Travel to Arusha, Tanzania via Europe where you will be met by your PH at Mt. Kilimanjaro Airport. You will then spend the night and do a road transfer the next day to the hunting camp and area. No expensive air charters!
This hunt will take place in a WMA bordering Tarangire National Park. An amazing time of year to see and hunt in Masailand as its usually very green from the rains and buffalo leave the park in search of new expanded ranges. Some of the very biggest bulls ever taken in Africa have come from this region. Comfortable classic tent camps based in scenic location. Hunters should see hundreds of Buffalo and many other species. Take a 2-3 day side trip up to Ngorongoro Crater after the hunt. We assure you this experience alone is worth the trip. We know from personal experience!
Cost is $26,000 per hunt for ten full days hunt on a 1×1 basis. Camp/area can handle a few hunters at a time. This price includes day rates for PH, hunting vehicle, classic tent camps with bathrooms ensuite, full staff, finest quality locally available food and beverages , field trophy care, dip and pack crating and documentation, gun imports, hunting licenses as well as all the government conservation and hunting area fees!! The normal fee is nearly $40,000K!
Trophy fee for the first Bull is $3000 then falls to $2800 for the second bull! Ask us for other plains game availability and costs. We know the PH's personally as well and they are highly experienced.
What are you waiting for? You're not getting any younger and it certainly is not going to get any cheaper!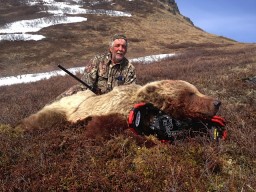 Western Alaska Classic Interior Grizzly Bear Hunt
February 4, 2015
Here's a good spring Grizzly hunt open in May 2015 with a very good outfitter we work with.
They say a picture paints a thousand words and with that in mind, the photos below pretty much tell the application of this hunt. Keith Atcheson took his first Grizzly in this same region many years ago. Saw several good bears and nothing has changed in this remote land except the bear numbers have increased (so much that this is a 2 bear per year area).
The average bear is in the 7.5 to 8.5 ' range and normally absolutely stunning spring coat conditions. There are lots of color variation as well.
May 1 – 10 or May 11 – 21, 2015.
Price is $11,500 per hunt 1×1 guiding,
License is guaranteed and costs $585.00.
Fly to Aniak/Holy Cross, AK.
This is a high success, affordable bear hunt.
You skin Griz pilgrim?