Hunt Specials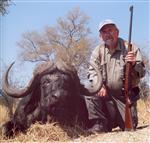 Namibia Caprivi Hunt
September 6, 2011
William recently returned from a hunt in Namibia. He took this awesome Cape Buffalo. The photos of his roan and sable are listed in our photo gallery as well.
Brian Hunts in Namibia
August 1, 2011
NAMIBIA 2011
The Caprivi Strip camp of Eden Safaris was our home base for the start of our 2011 Buffalo, Leopard and Plains game hunt. The Caprivi area is a vast, lightly populated region in the far North East corner of Namibia. We flew commercially from Windhoek up to Katima and then had a two hour drive to camp. The camp is located on the bank of the Kavango River, a semi permanent tent facility with great views of the river and wetlands. We had both a dry ground area along with a huge Swamp/Island region to purse Buffalo. The camp that Dries Alberts runs for Eden is very comfortable and offers food as good as you will find anywhere. This Safari was my second to Namibia and the first for my two oldest children. The area had a very good Buffalo population along with
Elephant, Hippo, Crocodile, Leopard, Sable, Roan, Zebra, Impala, and Warthog.
The hunting area is accessed by either boat or truck. During the ride through the swamp several Hippo were encountered. We located our Bull after several miles of working over "Buffalo Island" looking for tracks and other sign. We came upon the Bull and Dries instantly knew he was the one we were looking for. A 35 yard initial shot and two insurance shots had my first Buffalo in hand. This Buffalo is a tremendous trophy, 44.5 inches wide with a 16 inch boss. 17 km total for the day and a beautiful boat ride back to camp. My kids each took a Zebra from this area and then we moved on to Eden for Plains game. The drive to Eden was 8 hours over good roads.
The ranch at Eden is truly a Mecca for wildlife. Kudu, Eland, Giraffe, Black Rhino, Impala, Waterbuck, Blue Wildebeest, Zebra, Oryx, Springbok, Elephant, Warthog, ECT. All these species and many others were found in great numbers. We each collected fine Kudu and Warthog. The kids each took Impala and I was able to take a really old mature Eland Bull. The facilities at Eden were very nice, a permanent camp with all the amenities. This ranch is a very large property with good roads and many improved water holes and salt licks.
I did my Leopard hunting in an area 2 hours drive from the ranch. My Leopard was shot on the second day of checking baits and on the first afternoon in the blind. My Leopard story is not very dramatic. The cat was shot in good light and died directly under the bait. We returned to the ranch at Eden for a wonderful dinner and celebration of all of our success. Both the Buffalo and Leopard qualified for "Gold Metal" status with the Namibian Professional Hunting Association.
My kids had a wonderful experience with the people and wild creatures of the area. Dries Alberts is a very experienced PH who previously worked the area as an anti poaching officer. He made the whole experience safe and enjoyable. We could not have been better taken care of. The staff at both Eden camps was very professional and made us feel very welcome. I would definitely recommend this hunt. I look forward to hunting with Dries again.
Brian
Salinas, California
July 2011 Cancellation Letter
July 12, 2011
Atcheson's Current Hot-Hunt List!
July 8, 2011
If you have friends, relatives, neighbors or acquaintances that you feel would like to receive this hunting notification, please feel free to forward it on to them or provide us with their name and email address and we will be sure they get a copy!! ~ Atchesons
All of these hunt will be booked on a first come/first serve basis. Hunts are not considered booked until full deposit has been received.
ALASKA
Dall Sheep
Alaska Dall Sheep hunts that just came open due to cancellations.
Superb Brooks Range Horseback Dall Sheep hunt based from very comfortable wall tent camp. We have used this outfitter for years with great results. Date is August 10 –17, 2011 for actual hunt dates. 1 opening only. Cost $11,000 1×1 guiding. A GREAT PRICE for a sheep hunt!!! Air charter $2,100 from Fairbanks and return. License and tag $485. Add Grizzly bear for $4,500 plus $500 tag to be bought in advance. 90% success on FULL CURL RAMS! The Alaska Fish and Game has a count on sheep of 14,000 to 16,000 in the Brooks Range so a great population!
Dall Sheep hunt in Brooks Range Cancellation hunt. August 23 to September 1, 2011. 8-days actual hunting. Back packing and pack dogs so if they client does not want to carry a heavy pack the gear is dispersed with large dogs. Pretty handy!
This hunt is open for one or possibly two hunters if its a father/son or similar scenario.
Normal price $18,500 now selling at $15,000. Grizzly option only $2,000 on kill and $1,500 for Caribou on kill. Charter is $1,250 plus license $85, sheep tag $400, Grizzly $500 and Caribou $325. Fly to Fairbanks commercially.
Brown Bear on Alaska Peninsula!!
The same outfitter above also has two excellent hunts open in a prime Peninsula area this fall. October 11 -21 for $13,500 per hunter. When was the last time you have seen a bear hunt of this quality available at that price!? This operator has consistently produced 9 foot plus bears on his fall hunts. A fairly easy hunt physically as it's a lot of glassing from high points on Salmon streams then once you find a big bear its off to the races. We have a lot of references and experience here. This hunt is based from Cold Bay where you would fly to from Anchorage.
Kodiak Island Brown Bear Hunt
Here's a very unique combination hunt on Kodiak this fall. Two openings 10-day hunt, 2×2, guided trophy coastal Kodiak Island Brown bear hunt. No draw. Kodiak Island GMU 8 – 30. Additional species: – Free ranging, privately owned, trophy bull buffalo – Sitka Blacktail deer Hunt date: Oct. 25th – Nov. 3rd Price: $10,000 per hunter Point of departure into the field: Kodiak – Trophy bull buffalo $4,000 trophy fee – Sitka Blacktail deer 1 buck $ 2,500 trophy fee. Alaska Peninsula GMU 9B – Wolf … if the opportunity presents itself during the contracted bear hunt … no additional fee – Ruffed Grouse …. no additional fee Hunt date: Sept. 20th – 29th Price: $10,000 per hunter Point of departure into the field: Iliamna
This Peninsula hunt is based from a ridge top and glassing for bears on surrounds hills eating berry's. Hunt is for clients in good shape able to hike. Charter is included.
Alaska Brooks Range Caribou Special!!!!!
If you have been waiting for a real discounted high-quality guided hunt then here it is. Our operator had a large cancellation for up to 6 hunters on the dates of August 21 – 28th 2011. Fully guided and outfitted hunt $3,600 each 2×1 guiding plus $3,000 for a second bull caribou if you wish. License is $85 and tag is $325 per caribou. Air charter is approximately $800 round trip from Deadhorse Airport in Prudhoe Bay. These animals are made of 4 separate herds, numbering over 700,000 animals. Good fly out spike camps place you in the path of migration. Free wolf hunting Call now to get in on this one! Its RARE!
Mountain Goat Hunts in Southeast Alaska
This hunt produces B&C Goats on a regular basis. The hunter needs to be in good mountain shape and able to spike out if they don't tag out from base camp. The hunter pays for charter fly in and out. Plan on $800 RT. Hunt cost is $7,750
They also have a Boat based goat hunt for one more hunter. Nov.16-22 price is $8,750. If both hunters tag out on goat they may hunt Sitka Blacktail and sea ducks on a trophy fee basis. This is a long time favorite outfitter of Atcheson's.
UTAH
Elk Hunts!
We have the following bull elk hunts available: 3 openings (300-340 class bulls) w/great cabin lodging. Third week September full bugling in rut. $10,000 1×1.These hunts are high quality and high Success with an operator Atcheson's have known for years. Elk licenses around $500. Utah has a 6.1% GST tax as well.
Mountain Lion
Our outfitter in Utah is second to none in experience and service. There is no better dog handler anywhere. Now is the time to book a mountain lion hunt for winter season 2012. December 11 through March 12 is the best time to hunt. Five to six day hunt is $4,750 with very high success. Hunt by 4X4's, ATV's, snowmobiles or horses. Whatever the conditions, they can adapt. Go hunt one of North America's great predators and save about 50 deer per year, per cat! We have multiple photos, references and great website to look at.
MONTANA
If your looking for the ultimate trophy bull elk hunt yet for this fall we may be able to help you. Our outfitter on the famous Flying D Ranch (owned by Ted Turner) still has a couple openings on 2 separate dates for this November. The quality of Elk hunting here is second to none. They have November 15-20 available for 2 hunters and November 21-27 for 2 hunters. Price is $10,000 plus $4,000 on kill. Success is extremely high and the average bull is 8 years old and scores in high 330's with some being as high as 370. This year in winter they counted nearly 600 branch antlered bulls that comb