Several forms of travel insurance protection are available for the trips that we arrange. For most hunts and vacations, travelers will never need travel insurance. The reality is that accidents do happen, family members get sick or injured, etc., and there is no way to predict those occurrences. In particular, if you are the one that needs it, you will be very happy that you purchased insurance for your trip. Please find more info here on these companies: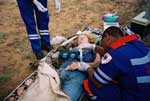 As an example, consider Nicole Atcheson's major accident with a cape buffalo in Zimbabwe in 2004. Nicole was so badly injured by a wounded buffalo that she had to be medevac'd from the remote bush in Zimbabwe to Johannesburg, South Africa for immediate medical attention. After five surgeries and a month of recovery, she was able to fly home with her husband Keith. The bill was over $50,000. Her Primary insurance carrier covered 90% of the bills. That left her with $5,000 that she had to pay out of pocket. The travel insurance that she had purchased before her trip, covered the amount she was charged. By American standards of medical care, this would be very cheap.
---
COVID-19 | A Message from the Atchesons
Our Thoughts and Recommendations Surrounding the Corona Virus and its Specific Impact on Hunters and Outfitters
---
Jack Atcheson and Sons was created in 1955, a few years after our founder, Jack Atcheson Sr. completed his combat tour in the Korean War with the US Army's 25th Division. He had spent the winter of 1951-1952 on the front lines as an infantry man on "No Name Ridge" in South Korea. The guiding principles of our family business were born on that barren ridge line, and we still live by those principles today!
Teamwork
Loyalty
Trust
Honesty
Respect for Wildlife and Individuals
More than just members of the hunting community, you are all part of our family as well! We have served our industry as hunting consultants for more than 65 years, connecting tens of thousands of international sportsmen with notable outfitters and guides in the process. Our client's goals and dreams have seen them travel to some truly remarkable locations. More importantly, we have always taken the health and well-being of all involved in adventure travel very seriously. Having been through a number of unsettling situations over time, we recognize that the current situation with COVID-19 is a formidable issue. We are doing our best to offer sound planning advice that is fair and in everyone's best interests, yet moves us forward past this bad period. This is a rapidly evolving situation and our advice may change as we learn more, but here's our current plans moving forward.
Short-Term (2-4 months) and Long-Term (4+ months) Hunt Outlook
On short term planning, the most logical (and likely only) option, is simply to delay the trip to a later period whenever possible. Both airlines and hunt operators seem to be following the same practice of fair treatment of their clients.
In the long-term, most outfitters plan on running hunts as previously planned, as trips in August of 2020 and onward, currently fall beyond the CDC's and other regional travel-restricted time frames. Fortunately, the nature of hunting is built around social distancing. Your party should be in for a great experience that allows you to reconnect with the natural world and wildlife and get into the fresh air!
You need to have these short and long term discussions directly with your outfitter, as they will know the local guidelines in their area best. In our experience, hunting camps rarely contain more than a few hunters and workers!
Suggestions for Hunters
For years, Atchesons have strongly recommend that you purchase deposit / accident / travel insurance. To offer a choice in travel insurance, Atchesons have partnered with two insurance companies that offer US and Non-US citizens with travel insurance options. "Cancel for any reason" insurance allows you to insure all your expenses and covers all activities.
While a Travel Insurance Policy can be purchased at any time, purchasing a policy within 20 days of making your initial trip deposit gives you the widest range of policy options, such as preexisting conditions and, more specifically, cancel for any reason. Atchesons are not travel insurance specialists. Therefore, all detailed questions and inquires must be made directly with insurance company agents. Our learned experience from similar disruptions lead us to believe airlines and airports will be practically empty in the short term, reducing all travel risks on all fronts. Our goal is to help you book with confidence and peace of mind while providing contingency plans in case things do go "south".
Suggestions for Outfitters
For now, we are suggesting a review of refund policies on trip payments to be more flexible and to give peace of mind to your clients.
Think of trip postponement, rather than non-refundable, if at all possible.
Camp food handlers should adhere to strict guidelines for food preparation, clean-up, and more frequent sanitation of surfaces in your lodging facilities.
We understand camps vary from outfitter to outfitter. As a general rule, cabins, rooms, tents, and toilet/bath facilities at camp should be deep-cleaned and laundered between guests, to whatever extent possible.
Suggestions to Game Departments
Consider more lenient policies on licenses / permit refunds and expiration periods for the hunting public.
Suggestions for Everyone
Follow the CDC's recommendations for sanitation standards and corona virus prevention protocols.
Take (or offer) hand sanitizers while traveling.
Practice social distancing in the current environment.
Atchesons will make additional recommendations based on the most current information, with the goal of keeping hunters and outfitting staff healthy. Please exceed sanitation guidelines. We will continue to tap into our guiding principles and lean on one another with compassion in the coming weeks and months. We will watch for new, industry-specific ways of conducting business and share them for the well-being of hunters and outfitting staff in our unique international hunting community. We all need to stand together during this noteworthy time. We are ready to assist, as always, and do our part in "flattening the curve!"
Keep safe and let's keep positive!
Best regards,
The Atcheson Team