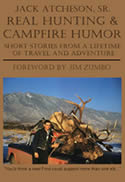 Jack Atcheson's new book is currently available
Order now and receive a personalized autographed copy.
REAL HUNTING & CAMPFIRE HUMOR
Short Stories from a Lifetime of Travel and Adventure – By Jack Atcheson
Hardback. 214 pages with many B&W photos.
The new book can be purchased at: RealHuntingHumor.com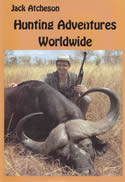 HUNTING ADVENTURES WORLDWIDE
Jack's first book is also available from the same website (link above). The price has been discounted. Purchase both book and receive an additional discount!
"Hunting Adventures Worldwide" features hunting stories from North America, Africa, Korea, just about everywhere you can hunt! Many photographs – 256 pages of humor and adventure. Deluxe hardcover edition, personally autographed by the author.
Niki Atcheson's Favorite Books for Women Adventurers and Hunters!
I have begun compiling a list of some of my favorite books for you women adventures and huntresses. Books to inspire you and your daughters. men, these make a great gift idea! This list will be updated from time to time as there are so many I love!
WEST WITH THE NIGHT *****
~Beryl Markham
Beryl recounts her many adventures as a pilot and huntress with some of the most famous hunters of the early 1900's.
THE SPLENDID OUTCAST ****
~Beryl Markham
More of Beryl's extraordinary life growing up as a part of early Kenya's Colonial elite.
I MARRIED ADVENTURE *****
~Osa Johnson
Osa's adventures with her photographer husband, Martin, from Borneo to Africa.
WOMEN OF THE FOUR WINDS*****
~Elizabeth Fagg Olds
This book recounts the adventures of four of America's first women explorers. Early 1900's.
THE MORSES IN AFRICA *****
~Mrs. Ira H. Morse
The story of their hunting, collecting safari to Africa in the early 1900's
I DREAMED OF AFRICA ***
~Kuku Gallmann
Though not a hunting book, this adventure is well worth reading. 1970's
OUT OF AFRICA *****
~Baroness Karen von Blixen-Fineke
under pen name Isak Dinesen
Karen's life as a coffee plantation owner and huntress. Early 1900's
LADY WITH A SPEAR
~ Eugenie Clark
THE HUNGRY OCEAN
~ Linda Greenlaw
HOW IT WAS
~ Mary Welsh Hemingway
NINE FACES OF KENYA
~ Elspeth Huxley
TWO DIANAS IN SOMALILAND
~ Agnes Herbert
THE MORSES IN AFRICA
~ Mrs. Ira H. Morse
UNDER AFRICAN SUN
~ Marianne Alverson
WAYWARD WOMEN
~ Jane Robinson
TWO DIANAS IN ALASKA
~ Agnes Herbert
AFRICAN HUNTING GAZETTE
~www.africanhuntinggazette.com