Hunt Specials
Short-Notice Namibian Leopard Hunt Special
June 24, 2021
Update: More 2021 Leopard Openings
Leopard & Plains Game Safari | Namibia
Save close to $12,000 on this leopard & plains game safari!
We have additional openings this fall on our previously advertised 16-day leopard and plains game safaris! If you're schedule is flexible later this year, you can save 40% now with our preferred leopard specialist in Namibia.
There are now 4 more hunt openings available, and they can occur simultaneously if a pair of hunters would like to do that. Dates available in October and November this year (2021). Considering the reduced price, these hunts are sure to be claimed quickly.
We have been sending hunters to this safari operator for many years, and they have very high success rates. Their safari lodge is modern, comfortable, and has all the amenities of home, including a gym and internet access.
16-Day Trophy Leopard & Plains Game Hunt
$18,000/hunter
Oct. 1-15 or 16-31, 2021
Nov. 1-15 or 16-30, 2021
14 full hunting days and 2 travel days
A pair of hunters can hunt simultaneously if desired, with each hunter getting their own guide (1×1).
Hunt Price Includes: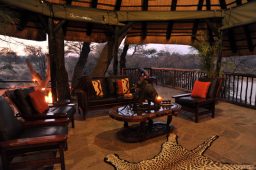 All professional hunter, camp, and trophy preparation services.
Leopard trophy fee and license (tag).
A single, non-hunting companion.
Plains game hunting permit includes the option to hunt kudu, nyala, sable, roan, and more (see trophy fees list).
Travel days to/from camp, including airport pickup and drop off in Windhoek.
Pre-hunt prep and baiting (bait is included as well).
Rifle rental (if needed).
Accommodations during hunt, along with meals and beverages.
Namibian V.A.T. (15%) on daily rates for the specified number of hunting days. Extra days are not necessary, but taxes wouldn't be included for those days if the client chooses to add days to the hunt.
Hunt Price Does Not Include:
Plains Game Trophy Fees (a current price list is available upon request).
Trophy fees and/or management fees to be paid on all animals killed or wounded and not recovered.
Taxidermy fees (dip & pack, quarantine, shipping)
Additional Observers: $250/person/day
Firearms Import: If you want to bring your own gun, you can. Otherwise, you can rent one of their rifles ($60/rental + $6/round).
Commercial airfare, lodging (prior to or after the hunt), travel insurance, and vehicle transport (at client's request) that isn't part of the leopard hunt.
Gratuities to guides and camp staff.
---
Go Hunting Now While You Are Physically Able!
Spring 2021 Black Bear & Travel Restrictions Update
March 11, 2021
Black Bear | White Mountain Apache Reservation
Spring Bear Hunt on 1.6 Million Acre Reservation in Arizona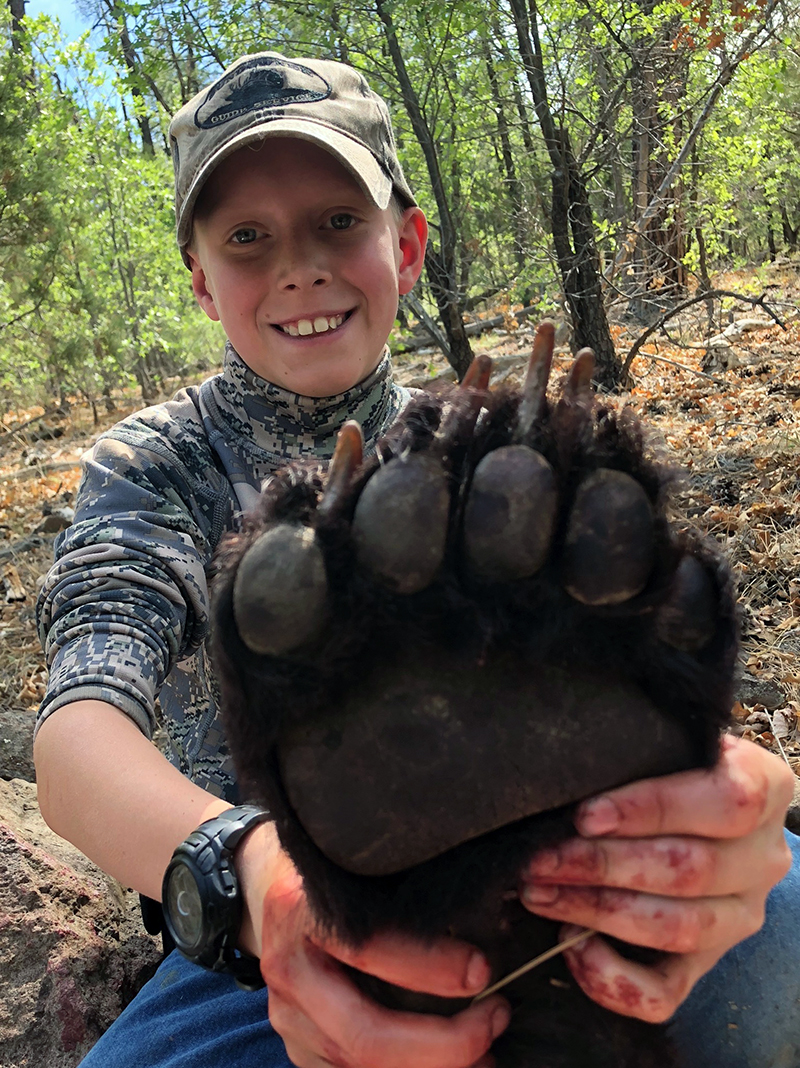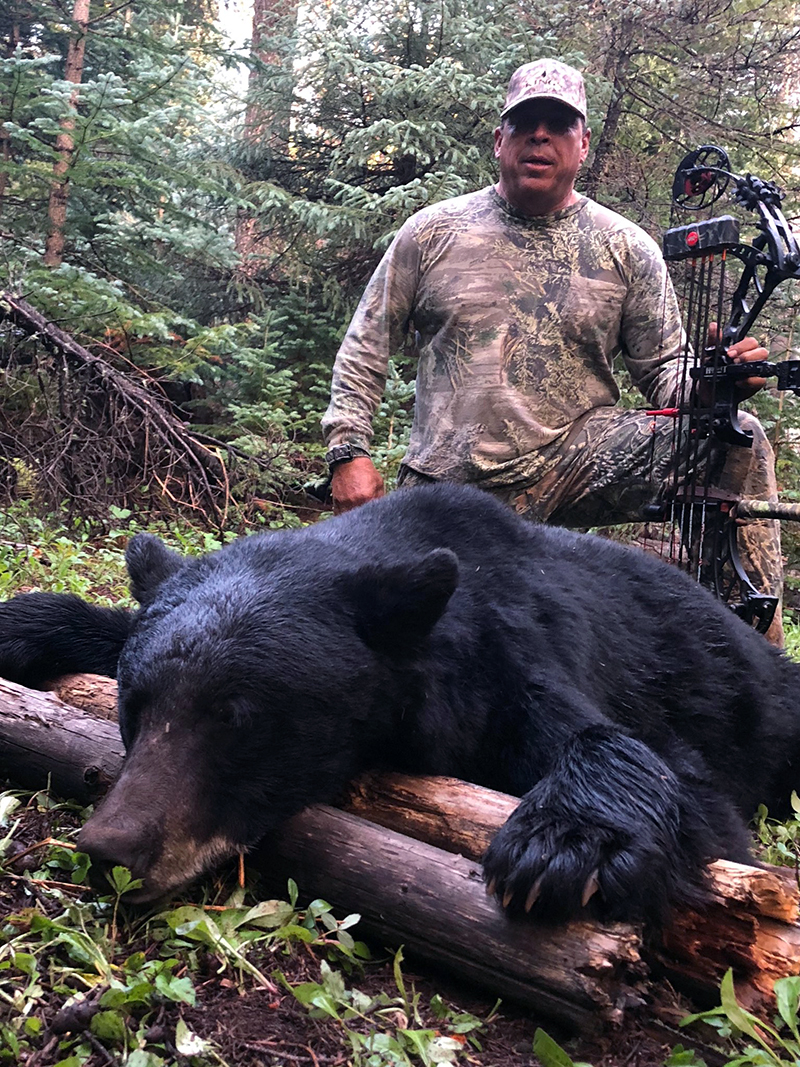 Now here is an exciting new hunt opportunity that is going to produce some big bears. After 10 years of trying to get the permit, our long time outfitter has been awarded a spring bear permit to hunt this massive hunting property. All types of hair coloration as well. There has been some hunting here in the past but not much with highly experienced dog teams and handlers. AZ and NM has many B&C bears in the record books as they grow huge skulls.
Big bears can be highly nocturnal, so by adding the ability to hunt with dogs, they will get some giant bears. They also have many baiting sites for those who do not want to run after a bunch of dogs. Excellent trout fishing opportunities as well.
A typical day's hunt consists of running dogs in the morning, trout fishing during mid-day, and sitting in a bear stand in the evening. This hunt is for all types of hunters. Camp will be nice camper trailers and wall tents, great food served up by a camp cook and nice camping weather in the spring. If you come across a mountain lion, they can chase them as well. Lastly, there's no state sales tax here either!
5-Day Spring Black Bear Hunt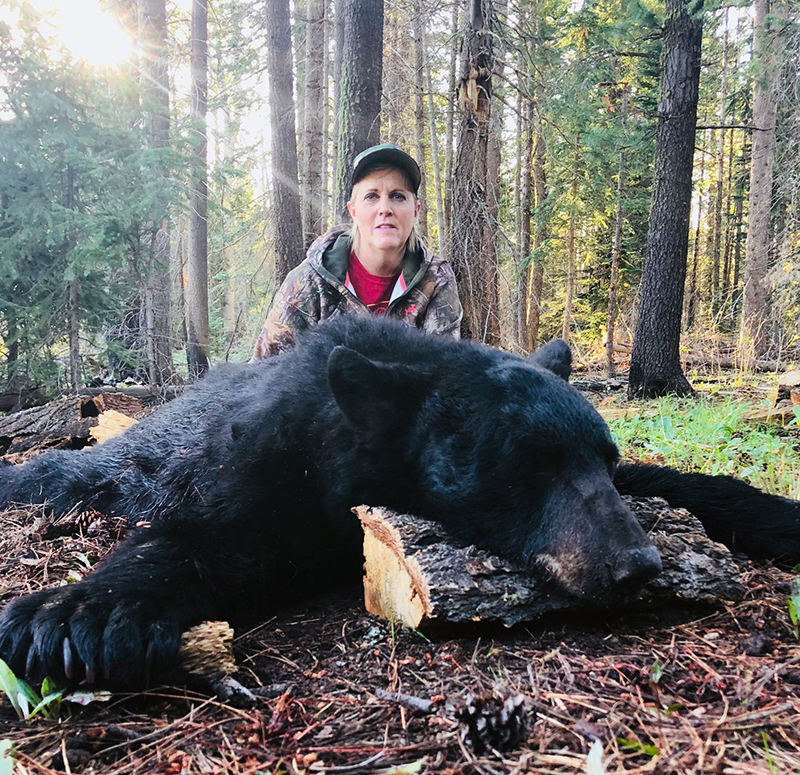 $4,950 (1×1) or $3,950/hunter (2×1)
Season runs April 1 to June 30, 2021
4 hunters/hunt period
Add bear and/or mountain lion tags: $405 each
Add 2nd bear: $2,450 (predation/trophy fee possible)
Add mountain lion: $2,950 (trophy fee)
Add non-hunting observer: $150/day
After the year we all just experienced, what a great way to get out and go hunting this spring! Call or write us today to get some hunt dates booked.
---
Travel Restrictions & 2021 Hunt Options
Independent of COVID Limitations
Many countries still have closed borders due to Covid restrictions, resulting in most US outfitters being fully booked for their 2021 seasons. However, we still have a couple of excellent hunts here in Montana open, and it's almost time to apply for the drawings so don't wait:
Montana Permit Application Deadlines
Elk, Mule Deer, & Whitetail Deer: April 1st
Bighorn Sheep, Mountain Goat, & Moose: May 1st
Pronghorn Antelope & Cow Elk: June 1st
Alaska Hunt Openings
Alaska-Yukon Moose
Trophy Caribou on Alaska Peninsula in September
Grizzly Bear (Spring & Fall) via snow mobile and horseback
Brown Bear on Alaska Peninsula
Baited Interior Grizzly & Black bears hunts this spring
Africa Hunt Openings
We have numerous hunts to offer on "The Dark Continent." African Safaris are also going to be taking place.
There are flights available to get to Namibia, South Africa, Zimbabwe, Botswana, Zambia, Mozambique, Tanzania, & other countries.
March 2021 Featured & Short-Notice Hunts
March 10, 2021
Trophy Caribou Cancellation Hunt
Alaska Peninsula | September, 2021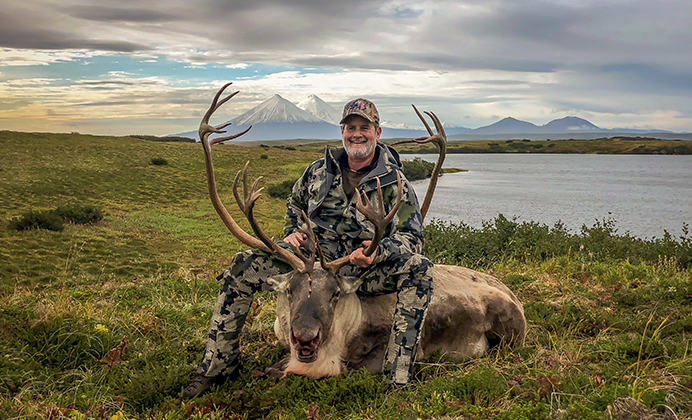 Good caribou hunts are hard to find, especially for hard polished antlers, but here is very good one open this fall. Due to a recent party cancellation, we have 4 opening with one of our long time outfitters here on the Alaskan Peninsula. Wolf hunting is free.

5-Day Trophy Caribou Hunt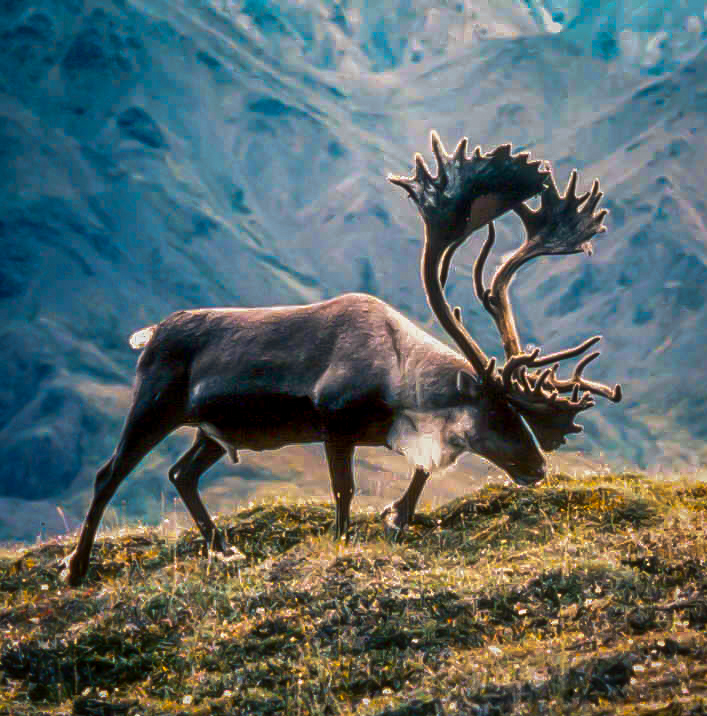 $8,500/hunter (2×1 guiding)
5 Full Hunting Days
September 26 – 30, 2021
Add Round-Trip Air Charter: $1,000/hunter
Add Caribou License: $650 each
Add Hunting License: $160/hunter
Add Wolf: Free (a tag is still required)
Optional 2nd Caribou: $4,000 (trophy fee)
2022 Openings Available
Hunting is all spot and stalk and hunting on foot so being in good shape and be able to walk will improve your chances. This is a local herd, so they do not rely as much on caribou migration. Bulls in the 300 to 350 class are the norm and a bigger bull is possible.
Hunters will fly commercially to Anchorage (ANC), then on to Cold Bay, AK. An overnight stay in ANC might be necessary depending on connecting flights on the 24th or 25th. Once you are in Cold Bay you will fly by local charter plane to the outfitters remote tent camp. The camps are spike camps with comfortable tents and normally located by a creek or river.
With the border openings to Canada still closed for the foreseeable future, this Alaska hunt might be a good one to get booked, as Alaska is open to hunters and travel.
---
Coastal Bear Hunts
Southeast Alaska | May, 2021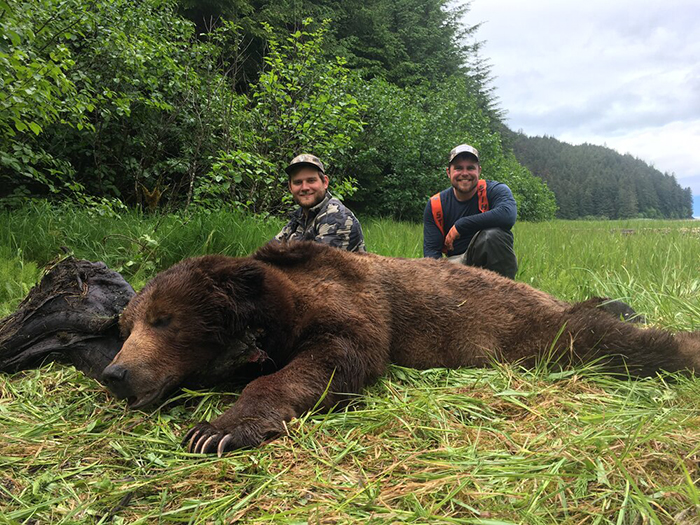 This outfitter is a particularly good bear hunter, and his coastal brown bear hunts are a great value, highly successful, physically easy, and fun! We have had 100% success with this hunt the late 4 springs on mature boars and beautiful hides. Best of all, its based from a very nice, remote lodge on Chichigoff Island, 60 miles west of Juneau. Hunters enjoy a private heated camp with electricity, hot cold water, shower and toilet.
10-Day Coastal Brown Bear Hunt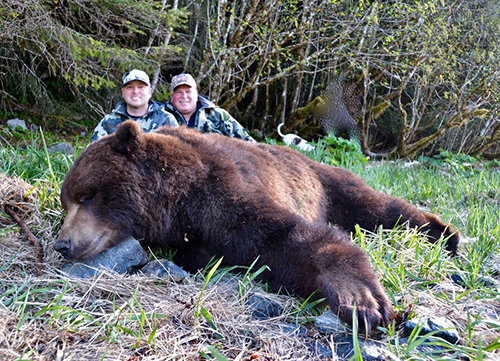 $12,000/hunter (1×1 guiding)
Add Trophy Fee: $8,000 (if taken)
May 11 – 20, 2021
Hunts are conducted from a houseboat where you travel to secluded bays while glassing the shoreline. You'll board a skiff to go to land, then sit and watch for bears wandering around on the tidal flats. 8' to possibly 9' bears are the norm.
---
This outfitter also has an excellent trophy spring black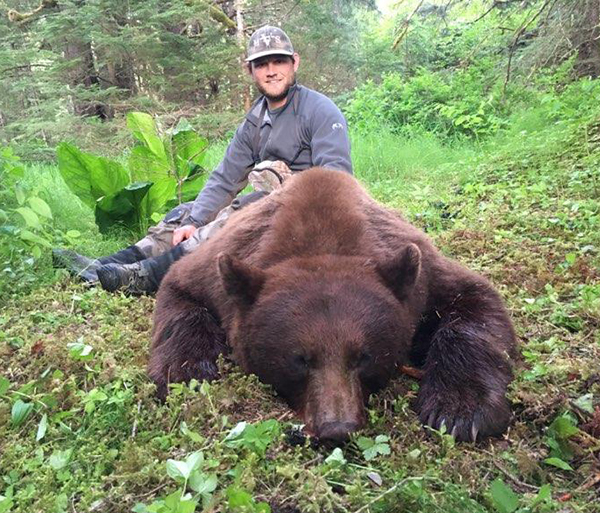 bear hunt open on the Alaska mainland, on the famous Taku River drainage. Lodging is on his houseboat, and you'll be using a jet boat to cover the country. 6' to 7' black bears are taken annually, with high success rates. Color-phased black bears (brown, blonde/cinnamon) are not uncommon here either.
5-Day Trophy Black Bear Boat Hunt
$6,000/hunter (1×1 guiding)
June 1 – 5, 2021
---
Tule Elk, Columbia Blacktail Deer, & Black Bear
Northern California | August & September, 2021
We have a couple outfitters in Northern California that offer high quality Tule elk, Columbia Blacktail deer, and black bear hunting. There are options for either trophy and non-trophy Tule bulls, trophy and non-trophy Columbia Blacktail deer, and monster black bear.
Record-class deer are taken frequently, and the outfitter's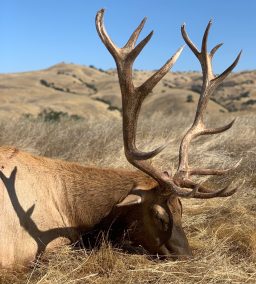 black bear hunt is incidental to deer hunting only. Some of these boars square over 7 feet, with skulls exceeding 21", which is very hard to come by. Hunters enjoy nice accommodations and excellent food. All hunting is spot and stalk using 4×4's on private lands.
5-Day Tule Elk Hunt
$28,500/hunter (trophy bull)
$18,500/hunter (management/non-trophy bull)
August or September, 2021
1×1 Guiding
Add Black Bear: $4,500 (trophy fee)
5-Day Columbia Blacktail Deer Hunt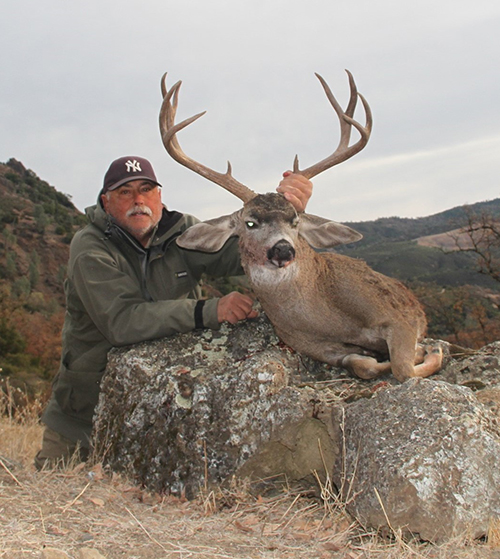 $8,500/hunter (trophy buck)
$5,000/hunter (management buck)
Late September, 2021
1×1 Guiding
Add Black Bear: $4,500 (trophy fee)
4 Openings Available
---
Short-Notice Winter Wolf Hunt
Alaska | March & April, 2021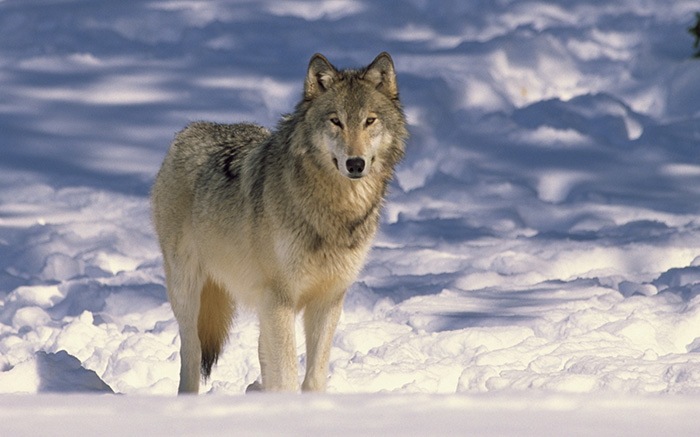 This hunt requires patience, and usually long hours of sitting in a blind waiting for the wolf to come to you. The river that runs through the hunting grounds is well known for its large salmon run. Deep holes in the river are hot spots for spawning, so salmon carcasses accumulate and freeze here. In the spring, as the snow begins to melt, wolves and bears scavenge for these salmon carcasses that get frozen to the shoreline. The outfitter will set up blinds (close to camp) in prime scavenging locations.
Calling is also to locate and draw wolves. During the spring, howling can be very effective, as the wolves are in their spring breeding cycle and very territorial.
7-Day Wolf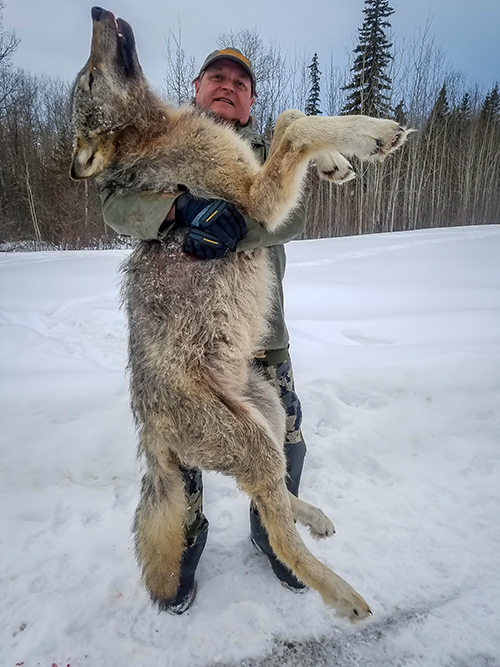 Hunt
$7,000/hunter (2×1 guiding)
March 12 – 20 or April 8-16, 2021
2 hunters per hunt
Includes round-trip flight from Fairbanks
Non-resident wolf tag IS NOT REQUIRED
Hunters fly into Fairbanks and overnight, then fly out to "Salmon River" the next day, which is considered the first day of this 7-day hunt. The outfitter uses a ski-equipped bush plane to access the low-lying river area, where you will be hunting.
Clients stay in a Sibley wall tent with a wood stove. It is important that clients bring warm gear and come prepared to hunt in arctic conditions. Although temperatures average 0 to 30F, it can get as low as -30F sometimes, so the camp is set up to be very comfortable in case of cold snap.
The wolves come to the blind in packs, so this is a good hunt for pairs of hunters to attempt shooting nearly simultaneously. Knowing the other hunter and communicating can go a long ways when the time comes. We have openings available for two different time slots (March 12-20 or April 8-16), where clients would have 7 days in the field to hunt (weather permitting).